With Barbie (or Barbenheimer) blowing up cinemas, Danish pop group AQUA — famous for their pop single "Barbie Girl" will be embarking on a US Tour in the fall with the first stop at Seattle's Paramount Theatre. 
The band recently played two sold-out shows this summer in NYC and Los Angeles — it was only a matter of time before they decided to embark on a US tour.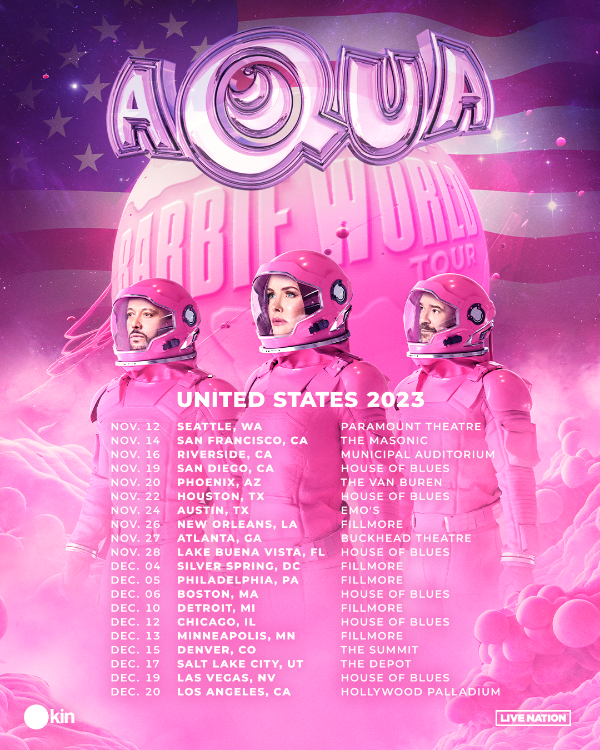 According to the official press release sent out today:
AQUA's indelible mark on the musical landscape was forged back in 1997 with their debut album Aquarium. A collection that birthed hits like "Turn Back Time," "Doctor Jones," and the iconic "Barbie Girl." The latter, a sensation whose catchy lyrics and vibrant charm had billions worldwide playfully echoing "I'm a Barbie Girl in a Barbie World". With a music video that encapsulated the whimsy of the era, "Barbie Girl" soared to chart-topping heights, etching itself into the cultural lexicon as an inimitable classic.
 
Reclaiming their position in the limelight, AQUA's astounding journey continues with the revelation of their "Barbie World Tour." With a remarkable 38 million albums and 7 million singles sold to their name, the group's signature tunes remain the soundtrack of a generation. The "Barbie Girl" music video, having surpassed a billion views on YouTube, stands tall as a testament to the song's enduring resonance, even asserting its presence on Instagram Reels.
The tour kicks off in Seattle on November 12. Tickets went on sale today at 10:00 AM.