Indie rock singer Lincoln Barr will make his grand return to The Seasons Performance Hall on October 27th in Yakima.
Barr is currently on tour promoting his sophomore album Forfeit The Prize — and is kicking the tour off with The Seasons show — as the venue has a special place in his heart. Barr, at one point, called Yakima home while his wife attended PNWU — and even played the venue in 2017. However, Barr was the frontman for the Seattle Indie Rock band Red Jacket Mine for the past decade.
According to the official press release:
After a pandemic interlude that saw the release of several boundary-stretching singles, Barr reconvened the core cast from solo debut Trembling Frames for a joyous session in late summer 2021 – guitarist, co-producer, and confidante Johnny Sangster (Neko Case, Braly Sangster, The Tripwires); the "indispensable" and sympathetic drummer John Convertino, one-half of Tucson legends Calexico; nimble bassist and avant-jazz staple Keith Lowe (Bill Frisell, Wayne Horvitz, Robin Holcomb); and one of Barr's most vital collaborators over the past decade, keyboard wizard (and nascent string arranger) Daniel Walker – cutting Forfeit the Prize's ten tracks live to tape over a few days at Sangster's Crackle & Pop! Studio in Seattle.
For finishing touches, Barr and Sangster enlisted a virtual wrecking crew that included string arrangers Walker (Heart, Amy Ray) and Andrew Joslyn (Mark Lanegan, Seattle Symphony); saxophonist Levon Henry (The Milk Carton Kids, Meshell Ndegeocello, Joe Henry); Chicago-based vocalists Kelly Hogan, Nora O'Connor-Kean, and Casey McDonough (Mavis Staples, Iron & Wine, NRBQ); and longtime ally Jefferson Curtis Brown (Downpilot, Half Rushmore). The album is set for an October 21, 2022 release on Seattle's Two Roads Records.
Opening for Barr is the indie rock duo, Braly Sangster. Made of Seattle-based musicians Leslie Braly (Pineola) and Johnny Sangster (Mudhoney and Neko Case). Their debut album, Permanent Wave features the debut track "Tease It Out" which feels like a nostalgia trip back to the mid-2000s, when Indie rock was at its peak!
If you're still on the fence, listen to what our good friend Brenden Monahan from Yakima Music Club has to say: 
The last time Lincoln Barr played The Seasons is indelibly etched in my brain. The venue's dome seemed to have been built precisely for the soft swirl of sound coming from Lincoln and his band. The lyrics threaded that needle of being profound without taking themselves too seriously. And the music: It's a gift to see such expert musicianship from people who intimately know and respect and trust and enjoy each other's styles. The music was rich and layered, but also….the word I keep coming back to is "sparse". Each note had a purpose. Some sounds wandered alone, some complemented or nudged along the others, and yet there was always room for discord, exploration, and resolution. I lack the vocabulary to communicate effectively how transformational it all felt. I wish I could have put it in a jar and taken it with me. Then again, I think maybe I did. I remember talking after the show with the band's drummer, Johnny Convertino (side note: Johnny let's get Calexico to The Seasons!) and talking about how wonderfully unhurried it all seemed. Like one of those magical walks where the destination no longer matters because you are so present in the journey. Johnny said: "Well, that's Lincoln, man. He can write a song".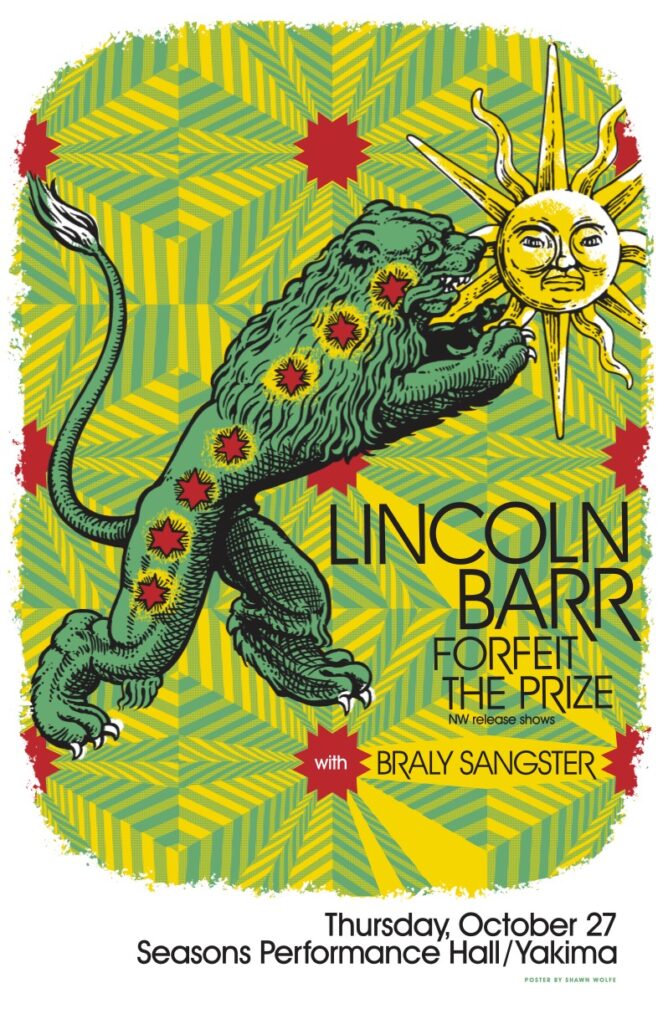 If You Go:
Show: Lincoln Barr with Braly Sangster
Date: October 27, 2022
Time: 7:30 PM Doors: 6:30 PM
Location: The Seasons Performance Hall 
101 N. Naches Ave — Yakima, WA
Tickets
General Admission: $15
2-Person VIP Table: $50
4-Person VIP Table: $100
Tickets can be purchased here